Everyone knows that if you're shilling a copywriting course, and you're feeling lazy…
Well, you can always fall back on one of the two "classic" enemies in your copy:
The "gurus"

Upwork
lol.
I've written about my hatred for the first one before, along with my rule of thumb: if you rail against the "gurus" … you, my friend, are a guru.
But people who pick on Upwork are just as guilty of the laziness.
As someone who built my entire career from scratch on Upwork, and was earning $250/hr in my first year … I never understood the hate.
Because in my view …
Upwork is the single fastest way to make money copywriting TODAY if you don't have much experience.
That is not to say you can make a living by sucking at copywriting.
But with Upwork, the barriers to entry are lower than any time in history.
And yes …
I ended up moving off Upwork myself, because the Barefoot Investor invited me to work with him — and after that, I wanted to work on my own biz.

But Upwork will always have a special place in my heart.
And … it's the gift that keeps on giving.
As proof, here is a personalised invite I literally just got today: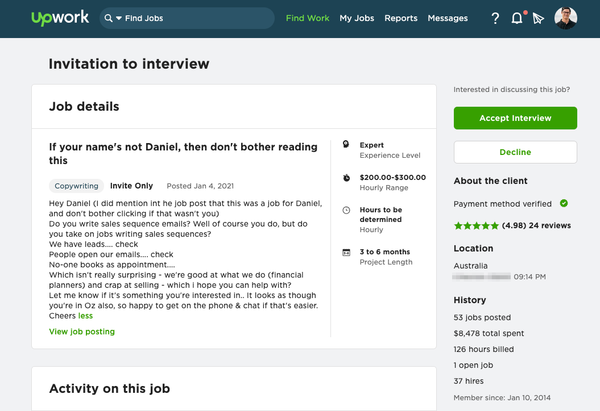 Hear that?
That's the sound of all the copywriting 'experts' going silent.
I'm sorry, guys, what was that thing you kept saying?
Wasn't it something like …
"BuT tHeRe ArE No GoOd ClIeNtS oN UpWoRk!!!!"
(I think?)
lol.
Look at that budget there.
$200-300 per hour.
Yeah … there are good clients on Upwork, all right.
It's just that most people don't see them … because they're posting invite-only jobs like this, privately addressed to certain freelancers.
(Oh, and … this isn't a one-off. I have a folder on my computer of screenshots of private invitations and jobs that were created just for me. And the vast majority of them came before I ever sent a single email as the Persuasive Page … so no, you don't need an email list to achieve this.)
So …
How did I do it?
And … how can YOU become one of those top freelancers people create jobs for, by name?
People ask me that ALL THE TIME.
So I've decided I might as well lay it out once and for all:
I'm going to put my Upwork success strategy into a course.
Nothing huge or fancy … just the simple process I used to get started, win work, and build a reputation that got clients coming to me.
And in further good news … this course will probably not be anywhere near as expensive as Market Detective.
(Though still enough money that you'll think before just buying it and not using it.)
If you'd like me to give you a holler when you can give me your dollars …
… opt in to my email list below and you'll find out when it's ready.
Update: This course — Upwork in One Hour — is now available here.
Daniel Throssell